About John Appleget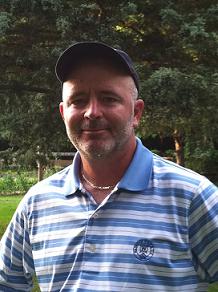 "Get the Passion"
I got introduced to the game by my dad at 14 years old. I played every sport before. But Golf. Oh Boy. Nothing like it. You get out of it what you put into it. And it starts with learning the correct physics. If you learn the wrong information, you are in for a frustrating time.

As a teenager, my goal was to learn something everyday. I knew if I learned a new skill or how to execute a new skill, I would become a better player. Thirty plus years later, that self motivation I still have.

Today I still have my own personal competition goals, but they take a back seat to coaching new, intermediate and advanced players. I have the chance to change a students life. It may be coaching a top player to reach their potential, or showing a new golfer the foundation for learning to play golf. Both are a thrill. Nothing like having a student say "I can't do that", and in time they are giggling and laughing at how easy it is to do.

I have learned information from hands down the most intelligent instructors teaching this game. I understand the physics, and I have TrackMan to prove it. Come on out and let me help you.

Playing Accomplishments
National
John has qualified for 12 PGA Professional National Championships - 1996,99,2002-07, 2010-12, 2014
John has qualified for 2 PGA Senior Professional National Championships - 2015,16
John has qualified for 7 USGA Open Sectional Qualifiers - 1996,1997,2001,2003-04,2006-07
Local Qualifier Medalist 3 times, 1997, 2001, 2006
Missed qualifying for national US Open in 2003 by 2 strokes in Sectional Qualifier
1993,1992,1991 PGA Tour Qualifying Tournament participant
1991 Ben Hogan Gateway Open (Qualifying Medalist)
Philadelphia PGA Events
Lifetime winner of 70+ Philadelphia area events
Lifetime winner of 11 individual professional Player of the Year Tournaments in Philadelphia PGA
Lifetime winner of 33 individual professional Pro-Am Tournaments in Philadelphia PGA region
Lifetime winner of 20+ Pro-Pro Tournaments in Philadelphia PGA
2002 Philadelphia Open (Pine Valley Golf Club)
2004 Philadelphia PGA Match Play Championship (Concord Country Club)
Miscellaneous
Low Rounds in Competition- ten under par, 62 for 18 holes, eight under par, 28 for 9 holes
Member Old Dominion University Golf Team, 1986
Cape May National G.C. course record, eight under, 63
Linwood C.C. course record, eight under, 63
Briarwood C.C course record, ten under, 62
Six career Hole-In-One's